None
| Attack | Defense | Stamina | Type |
| --- | --- | --- | --- |
| | | | |
Face Bolt: Pheonix
Edit
The Pheonix Face Bolt is Orange with Red Print it has a Pheonix Raising it's Wings in the air.
Energy Ring: Pheonix
Edit
The Pheonix Energy Ring has Two Wings that are Fluffy on either side of the Energy Ring. This Version is Yellow.
Fusion Wheel: Master
Edit
Metal Frame
Edit
4 Spikes go outward going past the core the 5th Spike is Overlaps the top 2 Spikes each halfway. Giving it a non Symetrical feature. When The whole Fusion Wheel is turned upside Down, The Spikes hit the opponent's Bey more in an attack mode. The Metal Frame is Orange.The Metal Frame and Core Combine to make the Fusion Wheel Master.
The core is Wide so it Blocks the Spikes in normal mode. When Turned upside down it Doesn't Cover the Spikes so it's in attack mode. The Core is Yellow. The Metal Frame is Combined to make The Fusion Wheel Master.
Spin Track: SW145
Edit
The SW145 is a Spin Track that has 2 Modes attack and defense mode. The Attack Mode is when the front of the Claws hit the other bey and Defense mode is when the Back of the Claws hit the other bey.
Performance Tip: CM
Edit
Cover Metal is Like CS but instead of Rubber it has Metal so on the Metal it goes into a Different Phase.
Special Moves
Edit
Flaming Overload: Flaming OverLoad is a Special Move that Pheonix catches on Fire and Leaves fire every where it goes.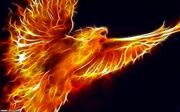 This Pheonix is Scorching with Fire it is Master Pheonix's Spirit.